Funded by George Soros …
March 9, 2017 in News by RBN Staff
TELL COMPANIES TO STOP GIVING AD $$$ TO HATE SPEECH / FAKE NEWS
Websites like Breitbart, the Drudge Report, Info Wars etc. played a huge part in promoting deception, hate speech and fake news during the election.
Like most media companies, they survive on advertising revenue. Oftentimes, companies don't even know that they're showing up on these websites, because of semi-opaque and automated ad bidding systems.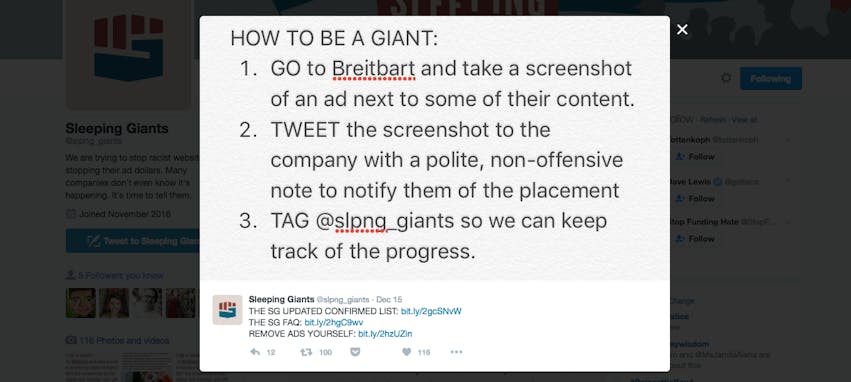 @slpng_giants (on twitter) has organized a campaign for consumers to get onto Breitbart, note which companies show up in the advertising boxes, and tell the companies to stop sending dollars to Breitbart
Because of consumer backlash, more than 800+ brands that have pledged to blacklist Breitbart + other hate speech outlets
AdStrike has done the hard work of visiting Breitbart 1,000s of times, from different browsing profiles, to get a full list of companies whose ad dollars are going to Breitbart
Scroll down to the bottom of this page, where we've generated a list of companies
Create a FREE buffer account
Log into AdStrike, link your buffer account
Every day, we'll auto-post 2-10 (# is up to you) messages to your twitter/FB. Sit back and relax!
upload screenshots to our database
email feedback to hello@adstrike.us !
WHAT HAPPENS WHEN COMPANIES BLACKLIST BREITBART?
(slightly oversimplified)
websites make money when brands bid to put their ads in front of you
when companies blacklist a website, there are less brands bidding and the website makes less money
tired of doing these 1 by 1 ?
show brands that have delisted
@slpng_giants @adstrike_us #defundhate
@slpng_giants @adstrike_us #defundhate
@slpng_giants @adstrike_us #defundhate
@slpng_giants @adstrike_us #defundhate
@slpng_giants @adstrike_us #defundhate
National League of Cities
@slpng_giants @adstrike_us #defundhate
@slpng_giants @adstrike_us #defundhate
@slpng_giants @adstrike_us #defundhate
Institute for Supply Management
@slpng_giants @adstrike_us #defundhate
@slpng_giants @adstrike_us #defundhate
@slpng_giants @adstrike_us #defundhate
@slpng_giants @adstrike_us #defundhate
@slpng_giants @adstrike_us #defundhate
@slpng_giants @adstrike_us #defundhate
@slpng_giants @adstrike_us #defundhate
Hilltop Technology Consultants
@slpng_giants @adstrike_us #defundhate
@slpng_giants @adstrike_us #defundhate
@slpng_giants @adstrike_us #defundhate
@slpng_giants @adstrike_us #defundhate
@slpng_giants @adstrike_us #defundhate
@slpng_giants @adstrike_us #defundhate
@slpng_giants @adstrike_us #defundhate
@slpng_giants @adstrike_us #defundhate
@slpng_giants @adstrike_us #defundhate
@slpng_giants @adstrike_us #defundhate
@slpng_giants @adstrike_us #defundhate
@slpng_giants @adstrike_us #defundhate
Strata Decision Technology
@slpng_giants @adstrike_us #defundhate
Strata Decision Technology
@slpng_giants @adstrike_us #defundhate
@slpng_giants @adstrike_us #defundhate
@slpng_giants @adstrike_us #defundhate
@slpng_giants @adstrike_us #defundhate
@slpng_giants @adstrike_us #defundhate
@slpng_giants @adstrike_us #defundhate
@slpng_giants @adstrike_us #defundhate
@slpng_giants @adstrike_us #defundhate
@slpng_giants @adstrike_us #defundhate
@slpng_giants @adstrike_us #defundhate
Association of Energy Engineers
@slpng_giants @adstrike_us #defundhate
@slpng_giants @adstrike_us #defundhate
@slpng_giants @adstrike_us #defundhate
@slpng_giants @adstrike_us #defundhate
@slpng_giants @adstrike_us #defundhate
@slpng_giants @adstrike_us #defundhate
@slpng_giants @adstrike_us #defundhate
@slpng_giants @adstrike_us #defundhate