Jury awards Sandy Hook father $450,000 for defamation by local conspiracy theorist
October 16, 2019 in News by RBN Staff
(H/T: Moon Rock Books, former distributor of Nobody Died at Sandy Hook)
More Stories:
Source: Madison State Journal | By CHRIS RICKERT crickert@madison.com
A Dane County jury on Tuesday decided a village of Oregon conspiracy theorist must pay the father of a boy killed in the 2012 Sandy Hook shootings $450,000 for falsely claiming that the father circulated fabricated copies of his son's death certificate.
It took the jury nearly four hours to decide on the amount James Fetzer must pay Leonard Pozner, whose son, Noah, 6, was the youngest victim of the Dec. 14, 2012, massacre in Newtown, Connecticut. The award follows Circuit Judge Frank Remington's ruling in June that Fetzer defamed Pozner with four false statements about the death certificate. The statements appeared in a book Fetzer co-authored and edited, and in his blog.
In his own statement after the jury delivered its decision, Pozner thanked the jury "for recognizing the pain and terror that Mr. Fetzer has purposefully inflicted on me and on other victims of these horrific mass casualty events, like the Sandy Hook shooting," and emphasized that his case was not about First Amendment protections.
"Mr. Fetzer has the right to believe that Sandy Hook never happened," he said. "He has the right to express his ignorance. This award, however, further illustrates the difference between the right of people like Mr. Fetzer to be wrong and the right of victims like myself and my child to be free from defamation, free from harassment and free from the intentional infliction of terror."
Fetzer called the damages amount "absurd" and said he would appeal.
Fetzer — a professor emeritus of philosophy from the University of Minnesota-Duluth and prolific conspiracy theorist on a range of events — claims the Sandy Hook massacre never happened but was instead an event staged by the Federal Emergency Management Agency as part of an Obama administration effort to enact tighter gun restrictions.
In closing arguments, Pozner attorney Genevieve Zimmerman called Fetzer's claims in the 2015 book and 2018 blog post "alt-right opium."
"It went around the internet like a virus," she said. "This kind of alt-right fact that they want to believe is fact."
In videotaped testimony aired Monday and Tuesday, forensic psychiatrist Roy Lubit said Pozner had been recovering from the post-traumatic stress disorder he suffered as a result of the murder of his son.
'Still suffering'
"But were it not for the denial of the death of his son, the harassment and threats, he would have healed and been having a relatively normal life several years ago and he wouldn't continue to have post-traumatic stress disorder," said Lubit, who was testifying on a pro bono basis as the expert witness for the plaintiff.
Fetzer's accusations were "a key part of why he is still suffering" and still meets criteria for PTSD, Lubit said.
Pozner testified during the trial that he's been the subject of repeated harassment by people who don't believe the Sandy Hook shootings occurred, including through messages posted to photos of his son on a memorial website.
His attorneys played two profanity-laced voicemail messages from a Florida woman named Lucy Richards who told Pozner he was going to die. She was later sentenced to five months in federal prison for the threats.
Fetzer attorney Richard Bolton sought to undermine Lubit's testimony, noting that Lubit did not evaluate Pozner in person or review any of his medical records.
He told the jury that there was no evidence that Fetzner had ever threatened Pozner or that the people who threatened Pozner had ever read what Fetzer wrote.
"They can't connect any significant, if any, harm to these four statements," he said. "That's a dot they have to connect and they have not."
He said Pozner's attorneys were urging them down a "dangerous road" to say that even if someone doesn't read statements directed at someone else, and later acts against the targets of those statements, "you become the insurer for everybody else … whether they read it or not."
Bolton also sought to tie Pozner's suit to his alleged "animosity" toward Fetzer and to Pozner's broader efforts to remove online material created by Sandy Hook deniers — attempts plaintiff's attorneys objected to and Remington largely rejected, instead keeping the focus on the four defamatory statements.
Pozner is among a group of Sandy Hook parents whose defamation case against right-wing conspiracy theorist and "Infowars" host Alex Jones is pending. Pozner has filed other Sandy Hook-related litigation and founded the nonprofit HONR Network, which seeks to counter online hoaxes and harassment.
During cross-examination by Bolton, Pozner said he remains active in efforts to get false information about Sandy Hook removed from the Internet and agreed with Bolton that he's had some 1,500 videos removed from YouTube.
He said the work causes his some emotional distress, but "I feel I'm strong enough to do that."
Fetzer's assertion about the faked death certificate first appeared in an August 2014 article that would later become a chapter in the book "Nobody Died at Sandy Hook," first published in October 2015. It was later released as a "banned" edition and in a free e-book form.
Fetzer claimed in an interview played during the trial that the ebook had been downloaded more than 10 million times. Plaintiff's attorney Emily Stedman said about 3,000 hard copies of the book were sold.
During questioning by Stedman, Fetzer referred to the four defamatory statements from his book and blog as "allegedly" defamatory, which drew a rebuke from Remington and an instruction to the jury to disregard what Fetzer had said.
"You won't be using this court and this trial as a collateral attack on this court," he told Fetzer.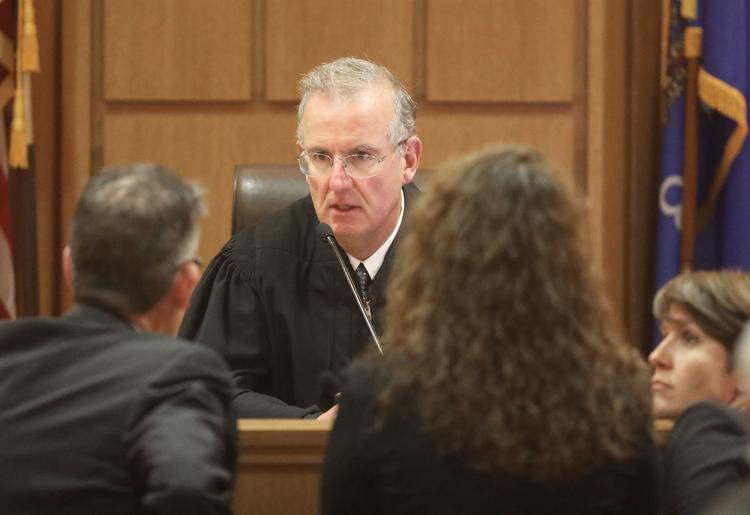 'I needed to be his voice'
Pozner testified that he became aware of Fetzer in mid-2014.
"He was writing about Noah and about me," he said. "It said a lot of ugly things, and I felt like I needed to defend my son. He couldn't do that for himself so I needed to be his voice."
He said Fetzer's writing caused him to worry about his safety and his family's safety and how his surviving children could be treated online and in life. One of his two daughters is Noah's twin.
Fetzer last month was found in contempt of court for sharing a confidential deposition of Pozner with fellow Sandy Hook "researchers" and ordered to make attempts to get the document back, as well as to pay the plaintiff's attorneys $7,000 to cover the cost of bringing the contempt complaint.
Genevieve Zimmerman in her closing argument characterized this as "ongoing, continuous, systematic rejection of" the legal system jurors were participating in.
Another of Pozner's attorneys, Jacob Zimmerman, confirmed Fetzer had made the $7,000 payment. In an Oct. 10 letter to the court, Bolton said he had been able to get two of the people Fetzer shared the deposition with to destroy transcripts of it, but one of them refused to delete images of Pozner contained in the deposition.
Jacob Zimmerman has said his client sought to keep personal health and financial information in the deposition private, but also wanted to avoid providing fodder to conspiracy theorists who could pose a threat to Pozner and his family.
Pozner had originally sued Fetzer and his co-editor on "Nobody Died at Sandy Hook," Mike Palecek, along with Wrongs Without Wremeidies LLC, which published the book under the name Moon Rock Books.
Those defendants later reached out-of-court settlements with Pozner — Wrongs Without Wremedies in June and Palecek last month. Terms of the settlements were not disclosed.
Palecek, in a statement provided by Jacob Zimmerman, said "the court has ruled that the death certificate of Noah Pozner is not a fabrication as stated in the book 'Nobody Died at Sandy Hook.' I accept the court's ruling without appeal, and I apologize for any resulting distress that I may have caused."
During his testimony, Pozner, who moved to Florida in 2013, described his son as a normal, funny child who would sometimes "joke that he would go to work at night while his sisters slept at a taco factory."
He told the jury that he remembered the large number of people at Noah's funeral and the heavy law enforcement presence, and said that when viewing his son's body he wanted to hold his hand, but couldn't because that was a part of his body hit in the shooting.
"I remember saying goodbye to him and kissing him on his forehead," he said.