First American Defector Since 1982 Bolts Across DMZ to Free Korea
July 20, 2023 in News by RBN Staff
Source: Daily Stormer
BREAKING: A US national is being held in North Korea after crossing the border, the United Nations Command says.https://t.co/PAiZ4D1jU3

📺 Sky 501, Virgin 602, Freeview 233 and YouTube pic.twitter.com/JXdeQ4D1gn

— Sky News (@SkyNews) July 18, 2023
A U.S. National on a JSA orientation tour crossed, without authorization, the Military Demarcation Line into the Democratic People's Republic of Korea (DPRK). We believe he is currently in DPRK custody and are working with our KPA counterparts to resolve this incident. pic.twitter.com/a6amvnJTuY

— United Nations Command 유엔군사령부/유엔사 (@UN_Command) July 18, 2023
This is the first defector to North Korea since 1982.
I doubt he is being treated how the American media is claiming he is being treated.
A U.S. soldier crossed the inter-Korean border into North Korea and was believed to be in North Korea custody, a U.S. official told Reuters on Tuesday, creating a fresh crisis for Washington in its dealings with the nuclear-armed state.

The United Nations Command that oversees the demilitarised zone area at the border earlier on Tuesday identified the individual as a U.S. national who had crossed into North Korea without authorization while on a tour. It said the person was likely in custody but offered no other details.

South Korea's Dong-a Ilbo daily, citing South Korea's army, identified the person as Travis King, a U.S. army soldier with the rank of private second class. The newspaper later deleted the name.

Reuters could not immediately confirm the identity of the person.

…

Two U.S. officials told Reuters that a U.S. soldier had crossed into North Korea. One said the soldier was believed to be in North Korean custody.

The person was taking part in a tour to the Joint Security Area on the demilitarised zone border separating the two Koreas since the end of the 1950-53 Korean War where soldiers from both sides stand guard.

"A U.S. National on a JSA orientation tour crossed, without authorization, the Military Demarcation Line into the Democratic People's Republic of Korea (DPRK)," the U.N. Command said on Twitter.

"We believe he is currently in DPRK custody and are working with our KPA counterparts to resolve this incident," it added, referring to North Korea's People's Army.

The man was with a group of visitors, including civilians, to the Panmunjom truce village when he suddenly bolted over the brick line marking the border, Donga and the Chosun Ilbo daily newspapers reported, citing South Korean army sources.
Some reports I've seen said that he was laughing when he ran across the border.
I guess he will be in detention for a while until they can figure out if he's a spy, and will then live the rest of his life under some suspicion, but there is no reason they have to abuse him.
You can read about the list of defectors – they were all allowed to live normal lives.
The fact that Americans want to go live in North Korea is a good look for North Korea.
North Korea is actually a really nice country, without all these problems we deal with in "democracy" countries.
Of course, no one can know that.
If you tweet this:
You: North Korea is a dictatorship where people are forced to push trains and are executed for having the wrong haircut

North Korea: 🤽🍻 pic.twitter.com/BxmS4CylC9

— Bodhishevik (@Bodhishevik) July 15, 2023
The censors will claim that this is actually a Truman Show type scenario, where when you visit the country, everything is a setup with actors: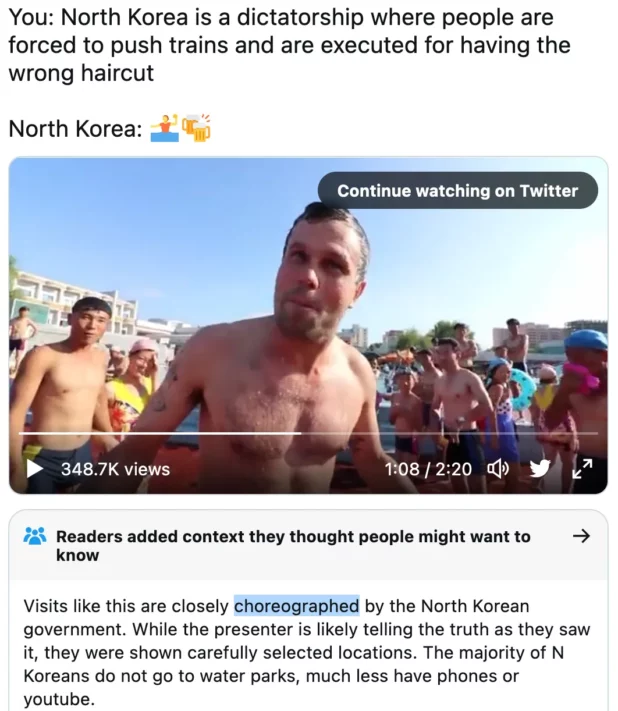 That is, of course, a wild conspiracy theory, for which the censors have no evidence beyond "reports."